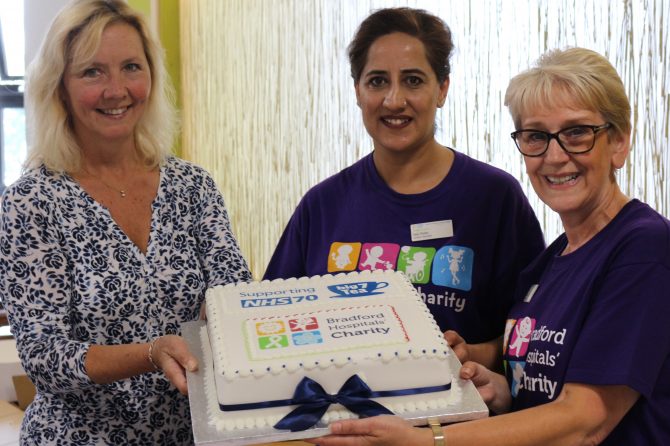 The 70th birthday of the NHS provides the perfect opportunity to celebrate the achievements of one of the nation's most-loved institutions and share local memories of the NHS in Bradford.
We've got a great line-up of events and celebrations this week that you can join in. Each day we'll be telling you what's going on, where and when.
Throughout the week: come along and see photo displays of Bradford's NHS through the decades in the main concourse at Bradford Royal Infirmary (BRI).
You can also give something back and help others during the celebration week by donating food and refreshments to the Bradford Metropolitan Food Bank. Collection points can be found at:
Main hospital concourse, BRI
Admin corridor, Women's and Newborn Unit
Health Library, Field House
Main reception, St Luke's Hospital
Reception area, Westwood Park
Westbourne Green
Tuesday, 3 July: for a sweet taste of years gone by, pop along to the main entrance at Bradford Royal Infirmary to see our old-fashioned 'Bake Off' competition, judged by Great British Bake Off contestant Sandy Docherty from 3pm. There's a bake sale too at 11.30am – will all money raised going to our Bradford Hospitals' Charity.
Wednesday, 4 July: check out the hospital grounds at BRI and St Luke's to see our Estates gardeners' handiwork making NHS70 displays from commemorative pebbles decorated by young patients on the children's ward. With help from our play leaders, the children have painted the pebbles in an NHS70 style.
Thursday, 5 July: the NHS is 70 today! Girlington Primary School's Deaf Choir will officially open the lunchtime celebrations at noon in the main atrium at BRI by signing a few songs which were popular 70 years ago at the start of the NHS. BRI's hospital radio station Radio Royal will also provide music to get the party started..
Our very own Trust models will show off nurses' uniforms throughout the decades from noon to 2pm.
And a showcase of stands will chart changing healthcare over the years, including a mock-up of an old hospital ward bedside – where people can test out their 'hospital corner' bed-making skills!
There will also be the chance join 'behind-the-scenes' tours of BRI. The tours will run every half hour from noon to 2pm, and people can book a slot at reception in the main concourse at BRI.
Chief Executive Professor Clive Kay will host a special invitation-only lunch for staff and volunteers who turn 70 this year and for former staff and volunteers who have an extra special connection to the Trust.
Many wards and departments will also host NHS Big 7Tea parties for their staff and patients.
And in the evening we will host our Annual General Meeting and Annual Members' Meeting from 6.15 to 7.15pm.
Our special guest speaker – Baroness Glenys Thornton, shadow spokesperson on health in the Lords, will give a keynote address on the NHS at 5.15pm in the Sovereign Lecture Theatre. This promises to be a great opportunity to hear Baroness Thornton share her views and experience of the NHS and take part in a Q&A session with the Chairman of Bradford Teaching Hospitals, Professor Bill McCarthy and the CCGs' Chief Officer.
Friday, 6 July: our hospital volunteers and executive directors will round off the week by raising a cheer with tea trolleys on the wards and prizes will be awarded for the 'best-dressed' wards and departments.
Enjoy the week! #NHS70