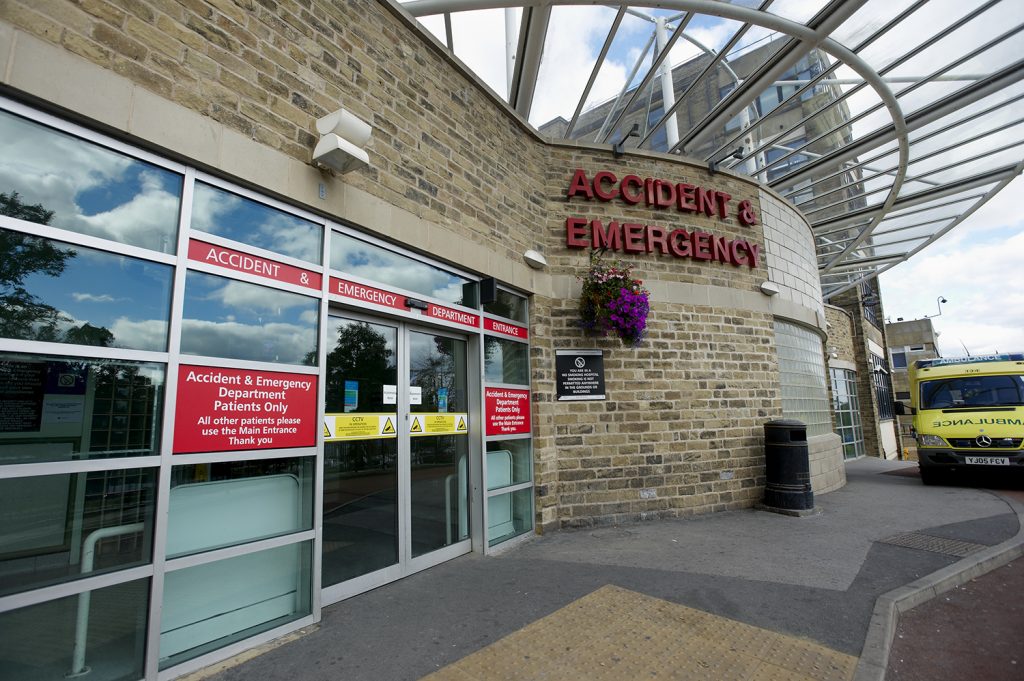 PEOPLE who come to Bradford Royal Infirmary's A&E department with minor conditions are to be re-directed to primary care to ease the pressure on emergency services as the local NHS deals with a second wave of COVID-19 and winter.
Bradford Teaching Hospitals NHS Foundation Trust has worked with NHS Bradford District and Craven Clinical Commissioning Group (CCG) to introduce a system to make sure patients in need of emergency care are prioritised.
This means that people who turn up at A&E with minor conditions, which could be treated by self-care or a GP, will be re-directed to a more appropriate service away from the hospital.
Anyone attending A&E for minor illnesses and injuries will be asked to contact NHS 111 or their own GP practice for advice and treatment, if needed.
People, including children, who attend A&E out-of-hours with non-emergency conditions, but which need assessment, will be offered a phone, video, or, where appropriate, a face-to-face appointment with a GP as soon as possible. These calls will be with the district's out-of-hours GP service.
During working hours, people with non-emergency conditions should contact their own GP practice directly, and out-of-hours they should contact NHS 111, which has the same access to GP appointments. This will save people time going to A&E when they could get advice or a GP appointment without leaving home.
Examples of non-emergency conditions include skin rashes, colds and sore throats, dental pain, long-term conditions, earache, back pain and non-acute mental health problems.
Emergency cases
A&E Consultant at Bradford Royal Infirmary, Dr David Greenhorn, said: "Now, more than ever, we need to keep A&E for patients with the most serious conditions. We have to deal with emergency cases, including patients with COVID-19, and need to main patient safety by social distancing in the department.
"This is made all the more challenging due to the number of people who come to A&E with minor conditions which could be dealt with elsewhere or by self-care and advice from a community pharmacist.
"The new system aims to re-direct those people who really shouldn't have come to A&E in the first place. They won't be turned away without speaking to a clinician – but will be given expert advice and help about where they should go to meet their clinical needs."
Anyone who is acutely unwell and is obviously requiring immediate assessment and treatment will be seen by A&E but other people will be re-directed to appropriate services.
Dr Dave Tatham, GP and clinical lead for urgent and emergency care, NHS Bradford District and Craven CCG, said: "GP practices are still open and very much still here to help. If you have a non-emergency, like back pain, skin rashes or need help managing a long-term condition such as diabetes, contact your GP practice, A&E will not be able to see you.
"Due to coronavirus, GP practices are still seeing as many people as they can over the phone or using video consultations. But I would like to reassure people that if you need to be seen face-to-face, you will be offered an appointment.
"People can also still drop into pharmacies for on the spot advice on lots of minor conditions. You don't need an appointment, and you'll often be seen, given advice, and guidance on what medication or treatment would help, without having to wait in A&E or for a GP appointment.
"There is also lots of advice available 24/7 online at nhs.uk – including a symptom checker, and service finder, which will help you find the best service for your needs."
ENDS
For further media information, please contact communications@bthft.nhs.uk or call 01274 383901.
Note to Editors:
Bradford Teaching Hospitals NHS Foundation Trust:
Bradford Teaching Hospitals NHS Foundation Trust is responsible for providing hospital services for the people of Bradford and communities across Yorkshire. We serve a core population of around 500,000 and provide specialist services for 1.1 million people.
Our 5,500 staff work over several sites, including Bradford Royal Infirmary, which provides the majority of inpatient services, and St Luke's Hospital, which predominantly provides outpatient and rehabilitation services. We also manage local community hospitals at Westwood Park, Westbourne Green, and Eccleshill.
In early 2017, a new £28 million wing opened at Bradford Royal Infirmary, part of a £75m investment to improve patient care across our hospitals over a five-year period. It provides world-class facilities for elderly care, children's services, a state-of-the-art intensive care unit with increased single-room provision and a retail concourse.
The new wing is a continuation of our work to improve patient experience after our new £2 million neonatal unit officially opened in January 2015. Our maternity services were recently shortlisted for the Royal College of Midwives' (RCM) Midwifery Service of the Year Award, recognising excellence and innovation in the provision of maternity care.
In 2017, we also completed a £2m refurbishment of our Emergency Department (ED) as part of an ambitious vision to create a more efficient acute medicine service for the people of Bradford. It has been designed to provide a slicker and more efficient service, with faster senior clinical involvement at an early stage in the patient pathway.
As a teaching hospital, we are at the forefront of education and development in healthcare, and have an excellent reputation for research performance. We are one of the leading centres in conducting applied research in the country, particularly in quality and safety, elderly care and rehabilitation.
The Trust is home to the Bradford Institute for Health Research (BIHR) where researchers have led the development, validation and implementation of the award-winning Bradford Electronic Frailty Index (eFI) which helps calculate an elderly person's risk of disability, impairment, falls and complications of chronic diseases, as well as their diminishing independence and capability. This is now being used by 98% of all GPs across the country.
Our award-winning Ophthalmology department is home to numerous worldwide clinical trials taking the lead in eye care research and we are one of only three sites in the United Kingdom to be enlisted in the Perioperative Enhanced Recovery Hip Fracture Care of Patients with Dementia (PERFECTED) study, which will investigate how the NHS can introduce better standards of care to improve outcomes for people with dementia.
The Trust has its own Bradford Hospitals Charity: https://bradfordhospitalscharity.org/
Follow us on Twitter: @BTHFT