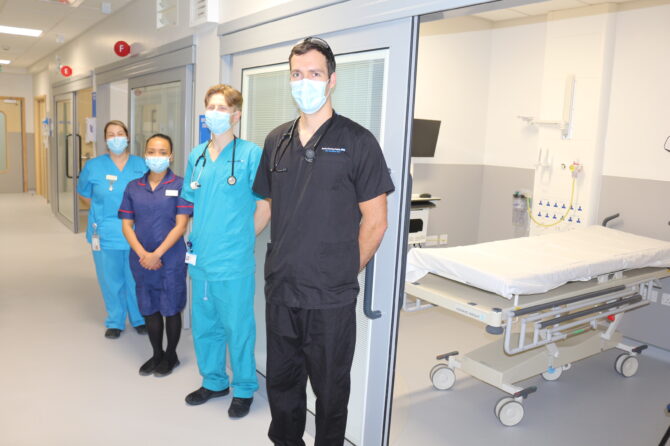 A new £2.4m high dependency unit has opened at Bradford Royal Infirmary's A&E Department.
Work has been ongoing to create a new high dependency unit (HDU) cubicle facility to provide state-of-the-art negative pressure rooms as the hospital enters a 'new normal' with COVID-19.
The eight new mechanically ventilated isolation rooms will use vents to create lower air pressure inside the room and ensure that when the door is opened, no air escapes into corridors which lowers the risk of spreading airborne diseases.
Consultant in Emergency Medicine, Jacob Mushlin, said: "Negative pressure rooms are a common method of infection control and are used to isolate patients with contagious, airborne diseases such as measles, tuberculosis, SARS, MERS, and COVID-19.
"The rooms aim to keep patients with infectious illnesses, or patients who are susceptible to infections from others, away from other patients and healthcare colleagues.
"The new unit will also allow the department to be more flexible with our bed base as we continue to care for COVID-19 patients in this era of a 'new normal'."
The project is part of a range of current capital investments at the BRI site funded by Bradford Teaching Hospitals and supported by NHS Improvement.
Director of Estates and Facilities, Mark Holloway, said: "I'm delighted that our Emergency Department HDU's project is now complete as we look to the future to ensure our patients have world-class facilities to receive cutting-edge care in this new Covid-19 era.
"One of our great strengths here in Bradford is that, as a Trust, we react quickly to new healthcare scenarios presented to us and can adapt our estate and our working practices to meet the changing needs and rising demand the NHS will face during the next decade and beyond."
While the work was ongoing, the department was reconfigured and HDU patients were accommodated in the department's central area.
ENDS …