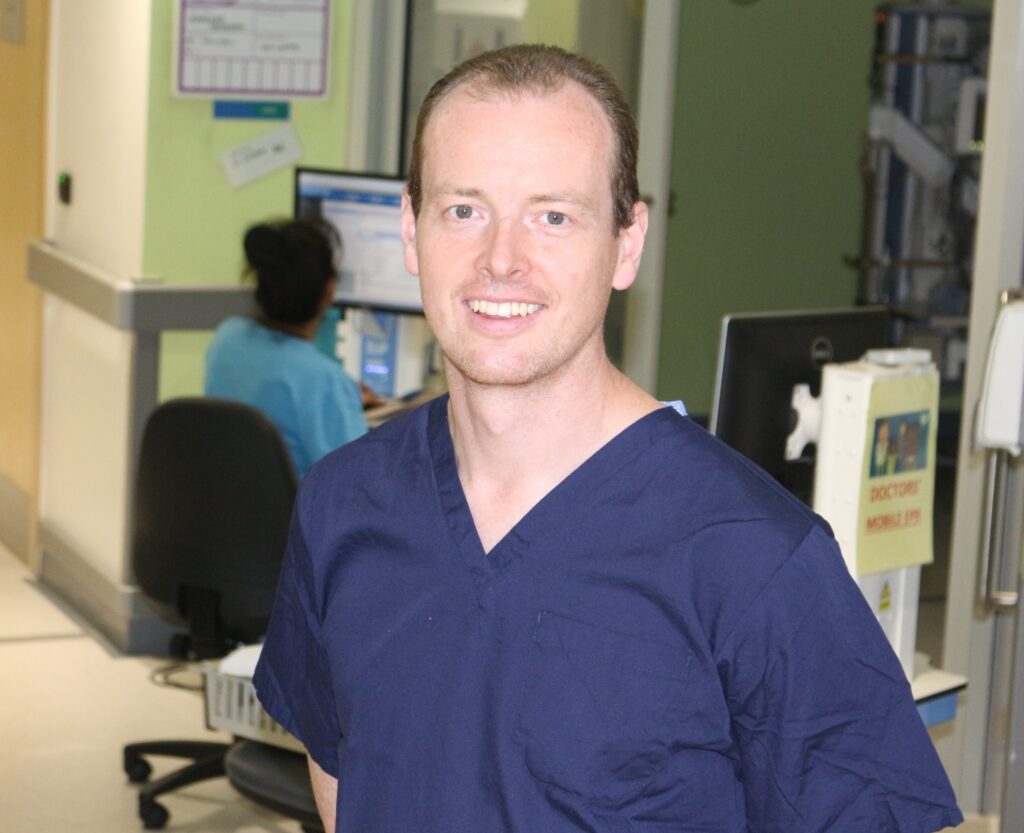 A leading Bradford doctor has urged the district's community to come forward and get vaccinated or boosted as infections of the Omicron variant continue to rise across the country.
Bradford Teaching Hospital's Intensive Care Consultant and Anaesthetist, Dr Tom Lawton, who is also the Trust's Clinical Lead for Artificial Intelligence, called on the people to pull together and "get the jab."
Dr Lawton, who last week was presented with his MBE by Prince William in recognition of his services to the NHS during the Coronavirus crisis, said: "We've had an awful lot of unvaccinated people coming through ICU with very severe COVID-19 and, one of the hardest thigs for me to deal with, has been people begging to be vaccinated at the point, when it is unfortunately, too late when they have already contracted COVID-19.
"Omicron is particularly dangerous because of the fact that it can transmit through people who have already had COVID or been vaccinated with two doses. Now those people hopefully won't be so sick with COVID, but they can transit it to other people who haven't had that protection. That means that if you haven't been vaccinated, you will come into contact with Omicron and you could well get very, very unwell with it.
"If you are concerned about the vaccine and want more information, the best place to look is reliable sources like the NHS website (www.nhs.uk). Obviously on social media, there is a lot of misinformation circulating.
"The vaccine has been studied and shown to be the best and most effective way of preventing severe COVID-19, so please come forward to have that vaccine.
"There is a tidal wave in the form of Omicron coming towards us and you want to have as much protection as possible before it hits."
You can watch a video of Tom Lawton highlighting the importance of having the COVID-19 vaccine – click here.
The NHS across Bradford district and Craven is currently accelerating its COVID-19 booster programme in the fight against this new strain.
Health organisations are also 'acting as one' to urge members of our community who haven't yet had their first or second jabs to get them as soon as they can.
Across Bradford city centre and the rest of the district, there are numerous vaccine centres ready to deliver your vaccinations.
Many are family walk-in clinics which make it really convenient for adults and children to 'grab a jab' together.
Like all areas, the local NHS is really pleased to see the number of people who are coming forward to get vaccinated. We do know some people have experienced delays when using the National Booking Service as it is experiencing extremely high demand. It is now operating a queueing system. If you're unable to book now, please try again later today or tomorrow.
We have some limited walk-in options at some of our clinics for the booster dose however we will be prioritising our most at risk people first as well as those who have pre-booked. If you do choose to walk-in you may have to queue and wait longer than those that have pre-booked, please be prepared to wait and be ready for the best that our British weather can bring.
If you're still not sure how and where to get your jab in Bradford district and Craven, here's some information to help:
People aged 16 or over can attend local walk-in COVID-19 vaccination clinics
Boosters are for people aged 18 and above (or those 16 and above with a health condition that puts them at high risk of getting ill with COVID).
Some sites offer vaccinations to anyone aged 12 to 15.
Please visit www.nhs.uk for more details
For the latest news about vaccines and how you protect yourself from COVID-19, visit https://www.nhs.uk/ & www.gov.uk