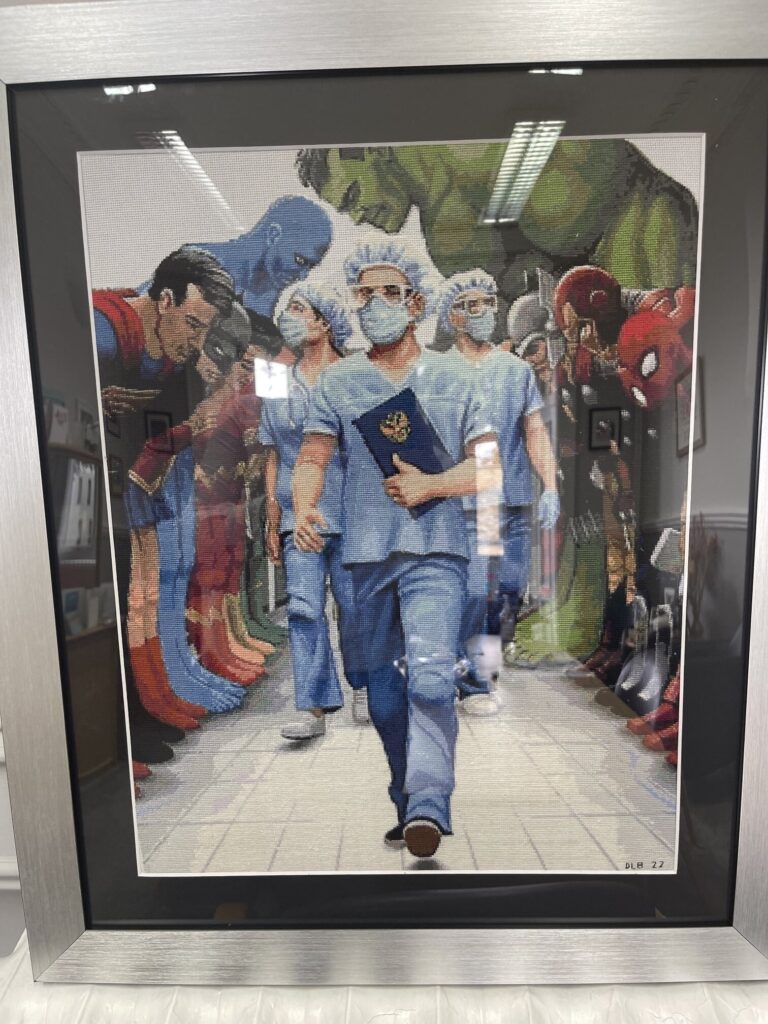 Grateful patient Di Baker has donated a labour of love cross stitch artwork to Bradford Teaching Hospitals to say thank you to her NHS superheroes.
Di, who has Crohn's disease, has been a patient at Bradford Royal Infirmary (BRI) for many years and was an inpatient for over four months after major surgery in 2020.
She came out of hospital just after the first COVID lockdown, but returns frequently for check-ups and treatment with the Gastroenterology team, who she calls "amazing".
During COVID an image of comic-book superheroes paying respect to doctors and nurses became famous, and Di spotted it on Facebook.
Di, from Bradford, has been doing cross stitch for over 20 years and finds it a very therapeutic pastime, especially as she manages her lifelong medical condition.
So she asked a friend to convert the superheroes image into a cross stitch chart – and then got to work! Almost a year later, she donated the artwork to Trust Chief Executive, Professor Mel Pickup, so it can be displayed in BRI.
"After all I've been through I just wanted to say thank you to the doctors and nurses who have saved my life many times," said Di.
"The Gastro Unit and Ward 11 are amazing – I know the nurses so well, and to me they are the real superheroes."
Professor Pickup said: "On behalf of the Trust and all our very own superheroes, thank you, Di, for this stunning artwork. This was an iconic image from the height of the COVID pandemic, but it continues to depict the heroism, kindness and compassion of our fabulous NHS colleagues here in Bradford."