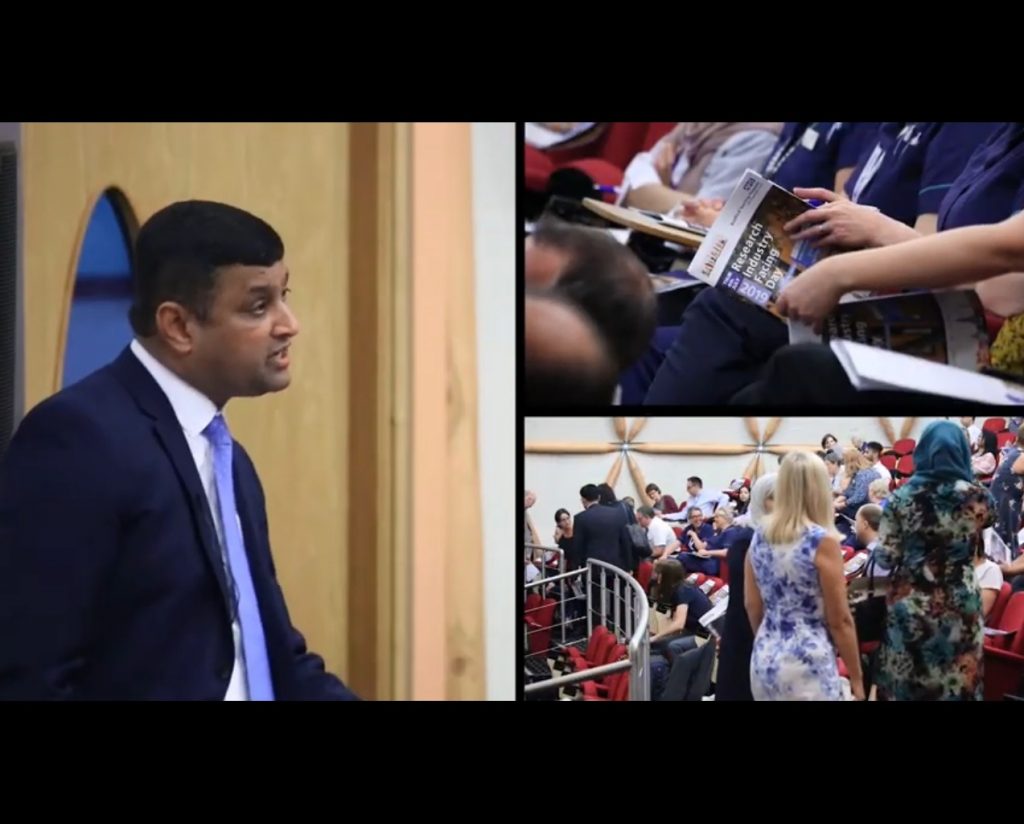 KEY PRESENTATIONS made by senior figures representing some of the giants of the pharma world during a Bradford event dedicated to enrolling greater numbers of NHS patients onto experimental clinical trials across the globe can now be viewed online.
Representatives from GSK, AstraZeneca, Sanofi Aventis and IQVIA met with clinical and research staff at Bradford Teaching Hospital NHS Foundation Trust's (BTHFT) popular Research Industry Facing Day.
For an overview of the event and footage of presentations which took place throughout the day, please see the links below.  
Commercial research activity at BTHFT, home to Bradford Institute for Health Research, has grown every year since 2014 by 10-15 per cent. However, the Trust is dedicated to increasing this number to allow even more patients to access the most advanced experimental treatments.
Professor John Wright, Director of the Bradford Institute for Health Research, said: "We currently have over 50,000 Bradfordians actively involved in our research studies, and over the next five years our goal is to increase this to 100,000.
"Central to our strategy is the importance of genuine community and patient co-production in research."
Raj Rout, European Medical Director, Sanofi Aventis, said: "Bradford has infrastructure, a beautiful research facility and patients, most importantly, that they are able to put into trials and is becoming a very attractive place to go.
"The infrastructure and the track record of a city in the North is not just competing with Manchester, Leeds, and York – it's competing with Oxford, Cambridge and London."
Tanya Turgoose, Industry Operations Manager at NIHR CRN Yorkshire and Humber, said: "My role is to grow research across Yorkshire and the Humber and Bradford is key to that. The track record of relationships they have with companies is something we need to replicate across the patch."
BTHFT Patient Research Ambassador Ruby Bhatti OBE, added: "The day was an eye-opener for me and helped me to understand the different stakeholders that support research – looking at suppliers, looking at the research teams and looking at the research we actually do in Bradford."
In order to achieve its goals, the Trust has committed to forging even closer ties with the pharmaceutical industry. To achieve this, we have:
A dedicated executive team which oversees commercial research development across the Trust
Expanded the Trust's Pharmacy in order to increase its capacity for the storage of trial medicines and opened its doors to more industry-sponsored studies
A Clinical Research Facility which has dedicated space to deliver clinical trials located on our main Bradford Royal Infirmary site
A research nurse manager to support the nursing infrastructure in trial recruitment and delivery
Raised awareness and shared best practice to equip the research teams with the knowledge and tools to deliver commercial research successfully.
Both the Trust's and the region's research capacity recently expanded even further, thanks to the recent opening of the Wolfson Centre for Applied Health Research (CAHR), which is based next door to the Bradford Institute for Health Research.
It aims to use the latest research to improve the health and wellbeing of children and the elderly, and will bring together researchers from the universities of Bradford and Leeds with clinicians from across the Trust.
Research Industry Facing Day speaker presentations
AstraZeneca presentation
Dr Rodney Hughes, Global External Scientific Engagement Lead, examined how trusts can develop successful research partnerships with pharma organisations.
Sanofi presentation
European Medical Director Raj Rout explained what Sanofi looks for when exploring potential clinical trial sites.
GSK presentation
Senior Clinical Research Associates Bob Kilbey and Claire Lill looked at some of the best ways clinical research sites can collect data.
IQVIA presentation
James Brook, Head of UK and Ireland Clinical Site Management, examined how clinical research sites like Bradford could harness the potential of the Northern Powerhouse.
NIHR CRN Yorkshire and Humber presentation
Tanya Turgoose, Industry Operations Manager, and Professor Paul Dimitri, Strategic Lead for Medical Technology, examine the NIHR's role within the Yorkshire and Humber region.
Diabetes presentation
BTHFT's Dr Donald Whitelaw, Consultant in Diabetes and Endocrinology, and Jo Thorpe, Lead Diabetes and Endocrinology Research Nurse, speak about the department's research success.
Digestive diseases presentation
BTHFT's Sophie Stephenson, Lead GI Research Nurse, and Sarah Tinker, Hepatology Research Nurse, highlight the work they do with patients from  Bradford and beyond.
Renal presentation
BTHFT's Dr Tarun Bansal, Consultant Nephrologist, and Jodi Paget, Renal Research Sister, share their successful research journey.
Ruby Bhatti presentation
Patient Research Ambassador Ruby Bhatti speaks about her work at Bradford Teaching Hospitals.

Research Industry Facing Day tours
Clinical Research Facility
Karen Regan, Lead Clinical Research Nurse, hosts a tour of our Clinical Research Facility.
Research Pharmacy
As part of our Research Industry Facing Day we also provided a tour of the Clinical Trials Pharmacy to attendees. Clinical Trials Pharmacist Helen Wilson explains more.
Feedback interviews
Tanya Turgoose, Industry Operations Manager, NIHR CRN Yorkshire and Humber
Anjum Rajput, BTHFT Finance Manager for Research
Dr Tarun Bansal, BTHFT Renal Research Lead
Rachel Swingler, BTHFT Research Nurse
Ruby Bhatti OBE, Patient Research Ambassador