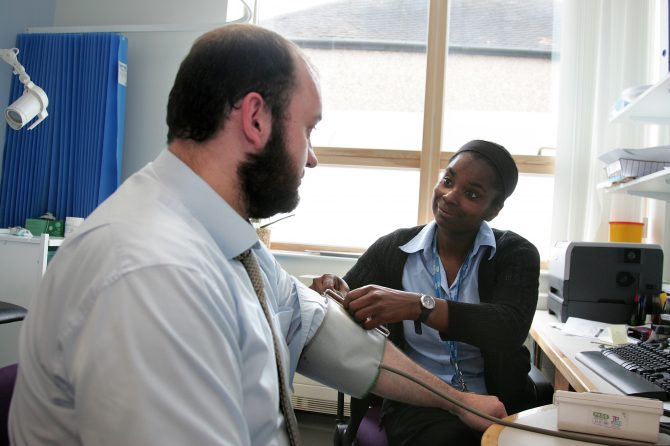 GP practices in Bradford district and Craven will be open as normal for the bank holiday this Friday (May 8).
Local GPs are reminding people that health, care and support services are #StillHereToHelp during the coronavirus pandemic, including the upcoming early May bank holiday. Health and care professionals continue to be concerned that people, especially those who are older or vulnerable, are not contacting the NHS for urgent help.
People are asked not to wait until it is too late to get help with urgent health conditions. Get in touch with your GP practice by phone or go online, people are reminded not to turn up in person.
At the moment, appointments are happening over the phone or by a video consultation, and may be with somebody else to who you normally see. If people do need to see a health professional face to face, whether they have symptoms of coronavirus or not, they will still be able to do so. Appointments are also still being offered in the evenings and over the weekends.
Dr James Thomas, GP and clinical chair NHS Bradford District and Craven clinical commissioning group (CCG), said: "All GP practices in Bradford District and Craven will be opening as normal this coming bank holiday to encourage people to get the help they need.
"We have seen fewer people contacting GP practices about urgent health needs, such as lumps which could lead to cancer diagnosis, or symptoms that could lead to strokes or heart attacks. GP practices are very much #StillHereToHelp and I would urge people to get in touch before their condition gets worse.
"Of course, we are sticking to social distancing measures and asking people not to come to GP practices. But I would like to reassure people that if you need to be seen face to face, whether you have symptoms of coronavirus or not, we are still able to offer you an appointment."
People can find the contact details of their GP practice on the NHS service finder which is available on the NHS website: www.nhs.uk/service-search
If you have symptoms of coronavirus, a new persistent cough and/or a high temperature, please visit the NHS 111 online service for advice: www.111.nhs.uk/covid-19 – do not go to a GP, pharmacy or hospital. If you do not have access to the internet, you can call 111 free from a landline or mobile. NHS 111 is available 24 hours a day, seven days a week.
People can find the latest, trusted, information about coronavirus on the NHS website: www.nhs.uk/coronavirus
ENDS
Notes to editors

About the #StillHereToHelp campaign
Local health, care, community and local authority services have been working closely together to respond to the coronavirus pandemic and have united to remind local people that we are #StillHereToHelp.
Doctors, support services and care professionals are concerned that some people who are unwell with urgent symptoms unrelated to coronavirus, or who are in need of other types of care and support, are unsure how to get help or are not seeking it in fear that they are over-burdening services.
The NHS, Bradford Council and voluntary and community services are coming together in a campaign called #StillHereToHelp to reassure people across Bradford district and Craven that urgent help and support is still available.
Search social media for #StillHereToHelp for the latest information about the campaign.