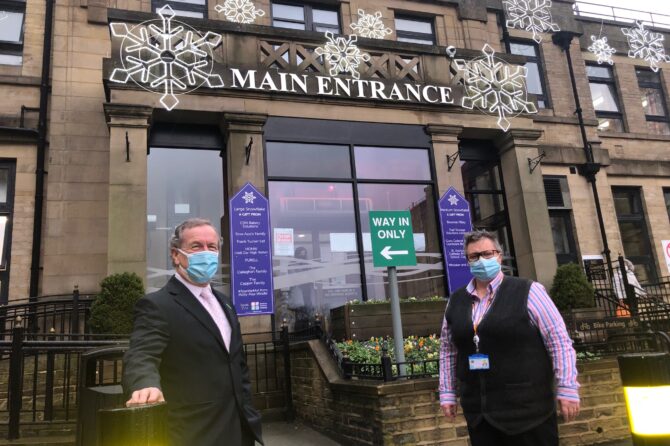 BRADFORD Royal Infirmary has always been close to David Crabtree's heart – that's where he began his nursing career exactly half a century ago.
So it was no surprise that he took the opportunity to return to his old 'stomping ground' – volunteering to help with the rollout of the COVID-19 vaccine.
After completing his training, David has now joined the team of vaccinators at the hospital's vaccine hub.
Now the owner of two care homes, he said: "It feels like we are at war with this pandemic; COVID-19 is the unseen enemy and I have witnessed first-hand the devastating effects this virus can have.
"When you have seen people dying because of COVID-19 as I have, then you just want to do all you can to help stop this deadly spread. I put myself forward to help with the vaccine rollout at BRI because I wanted to be useful and help in any way I could. I am really proud to be back at BRI and part of a fantastic team of people."
Cadet nurse
David's career in nursing began at BRI as a cadet nurse back in 1971 after enrolling on a pre-nursing course at Bradford College.
"I was told there would never be a place in nursing for men but I'm happy to say that turned out not to be true," he said.
"In the early days, I spent a lot of time in the pharmacy, counting out paracetamol but eventually I because a student nurse and then a staff nurse.
David moved into mental health, nursing at Scalebor Park in Burley-in-Wharfedale and Lynfield Mount Hospital, Bradford, before moving to Southport, Lancashire, where he was involved in shaping psychiatric services and care.
For a time he worked supporting people with drug and alcohol addiction before eventually opening two care homes for the elderly and people with dementia, in Manningham, Bradford and Silsden.
Get vaccinated
David implored people to get vaccinated: "Vaccines are the only answer against these terrible diseases. I appeal to people; when you are offered the vaccine, please take it.
"I would also say to anyone like myself with a background of nursing, who is perhaps now retired, please help with the vaccine rollout if you can. You will get all the training you need. I have been supported by the Trust from the start and the training is not too onerous. I am just really grateful to be part of the team and pleased to be playing my part."
Chief Nurse, Karen Dawber said: "We are very grateful to David for his support. This is an incredibly selfless and altruistic gesture and he is now fulfilling a vital role in helping us get as many people vaccinated against COVID-19 as possible.
"Thanks to the kind help of David and many more like him, we're able to roll out our vaccination programme at full speed.
"It's great that David is part of the BRI family again and I too would encourage other former healthcare professionals to get involved and help out if they can."
Any ex health and social care employees, who would like to help with the COVID-19 vaccination programme and who have not already been in touch with the Bradford Teaching Hospitals NHS Foundation Trust or Bradford District Care NHS Foundation Trust, should email: Covid.vaccinerecruitment@bthft.nhs.uk
ENDS
Photo shows David Crabtree with Chief Nurse, Karen Dawber outside BRI
For further media information, please contact communications@bthft.nhs.uk or call 07881906487
Note to Editors:
Bradford Teaching Hospitals NHS Foundation Trust:
Bradford Teaching Hospitals NHS Foundation Trust is responsible for providing hospital services for the people of Bradford and communities across Yorkshire. We serve a core population of around 500,000 and provide specialist services for 1.1 million people.
Our 5,500 staff work over several sites, including Bradford Royal Infirmary, which provides the majority of inpatient services, and St Luke's Hospital, which predominantly provides outpatient and rehabilitation services. We also manage local community hospitals at Westwood Park, Westbourne Green, and Eccleshill.
In early 2017, a new £28 million wing opened at Bradford Royal Infirmary, part of a £75m investment to improve patient care across our hospitals over a five-year period. It provides world-class facilities for elderly care, children's services, a state-of-the-art intensive care unit with increased single-room provision and a retail concourse.
The new wing is a continuation of our work to improve patient experience after our new £2 million neonatal unit officially opened in January 2015. Our maternity services were recently shortlisted for the Royal College of Midwives' (RCM) Midwifery Service of the Year Award, recognising excellence and innovation in the provision of maternity care.
In 2017, we also completed a £2m refurbishment of our Emergency Department (ED) as part of an ambitious vision to create a more efficient acute medicine service for the people of Bradford. It has been designed to provide a slicker and more efficient service, with faster senior clinical involvement at an early stage in the patient pathway.
As a teaching hospital, we are at the forefront of education and development in healthcare, and have an excellent reputation for research performance. We are one of the leading centres in conducting applied research in the country, particularly in quality and safety, elderly care and rehabilitation.
The Trust is home to the Bradford Institute for Health Research (BIHR) where researchers have led the development, validation and implementation of the award-winning Bradford Electronic Frailty Index (eFI) which helps calculate an elderly person's risk of disability, impairment, falls and complications of chronic diseases, as well as their diminishing independence and capability. This is now being used by 98% of all GPs across the country.
Our award-winning Ophthalmology department is home to numerous worldwide clinical trials taking the lead in eye care research and we are one of only three sites in the United Kingdom to be enlisted in the Perioperative Enhanced Recovery Hip Fracture Care of Patients with Dementia (PERFECTED) study, which will investigate how the NHS can introduce better standards of care to improve outcomes for people with dementia.
The Trust has its own Bradford Hospitals Charity: https://bradfordhospitalscharity.org/
Follow us on Twitter: @BTHFT