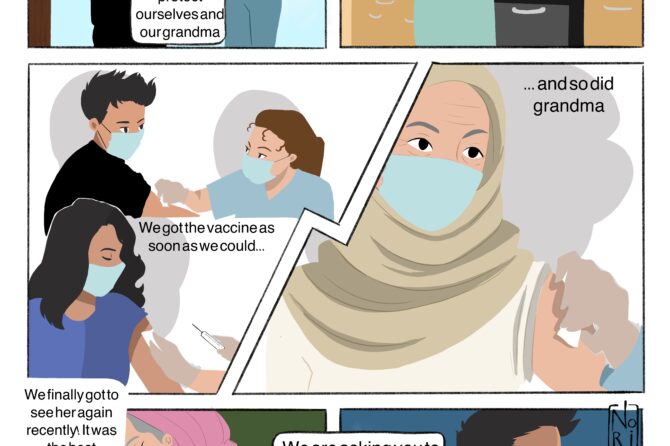 A SERIES of eye-catching comic strip graphics capturing the stories of young people across the district that have had their Covid vaccine have officially been launched this week to encourage others to get vaccinated.
Naureen Hafiz has been working with The Leap and the NHS Covid vaccination programme for Bradford district and Craven to share the experiences of five young people who have been vaccinated over recent weeks.
Working closely with young people, the stories have been co-produced with feedback from a wider network helping the design process.
The stories show how people aged under 30 have had different reasons to get vaccinated including those who had to overcome some initial hesitancy.
This includes a brother and sister who wanted to be vaccinated so they could feel safer visiting their grandma, a young woman from Indonesia looking forward to a trip back to see her family and someone who lost a close family member to the virus.
Working with Bradford Council's Young Covid Ambassadors, The Leap's young people's network and other district-wide partners, the graphics are being shared among young people in an effort to show why people have had the vaccine.
Grab a Jab
All the graphics remind people that it is really easy to 'Grab a Jab' by going along to one of the district's walk-in clinics without the need for an appointment.
Nancy O'Neill, NHS co-lead for the vaccination programme across Bradford district and Craven, said: "We are really impressed with the work Naureen has done and want to thank the young people who have bravely shared their very personal stories in an effort to get others to come forward and get vaccinated.
"This devastating virus continues to have an impact on our lives and figures show that we are seeing an increasing number of younger, unvaccinated people in hospital with Covid-19.
"We know that some people will have previously been hesitant and may now want to have the vaccine. It's perfectly ok to change your mind, come along to our walk-in clinics – you won't need to book and we have clinics across our district."
Zulfiqar Ahmed, Director for The Leap Project at Born in Bradford (BiB), the landmark project at Bradford Teaching Hospitals NHS Foundation Trust which is tracking the health and wellbeing of more than 13,500 children from before birth to adulthood, said: "It was a fabulous opportunity for us to contribute to the NHS vaccination programme and for us to play a part in this really successful programme.
"We understand that some younger people are still unsure if they should have the vaccine so I hope these stories we share will help reassure people that others have had the same doubts but have recognised how important it is to get the vaccine."
Naureen Hafeez, the artist behind the graphics, said: "It has been a real pleasure working on this project. Listening and understanding the process people went through before they got their vaccine was important to me as was the need to ensure I accurately reflected these deeply personal stories.
Ourselves, our families, and friends
"I have really welcomed the feedback we've received from young people before I finalised the design which means they reflect the needs of those who we want to reach. After hearing these stories I really want to remind people that we have to do this for ourselves, our families and our friends."
Councillor Sarah Ferriby, Bradford Council's Executive Member for Healthy People and Places, commented: "This is another example of how we have used a number of creative routes to get key messages out to our communities. Our approach throughout the pandemic has been recognised nationally, including by Professor Chris Whitty during a Downing Street briefing, and we continue to leave no stone unturned in our efforts to help our communities.
"The vaccine is our greatest hope and I hope these stories motivate people to get protected."
Anyone wanting to 'Grab a Jab' without booking an appointment can get along to a walk-in clinic with many open across the district – from The Broadway Shopping Centre, Bradford College through to Airedale Hospital and Silsden Medical Practice – opening times are available online.
For those wanting to book ahead they can do so by calling the NHS national booking service on 119 or visiting the website.