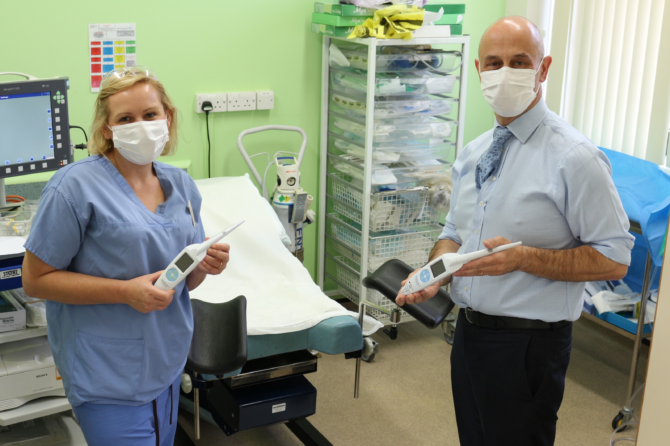 BRADFORD Teaching Hospital's Colposcopy Unit has received funding from the Michelle Henderson Cervical Cancer Trust to introduce two new ZedScan devices which will further improve the diagnosis of cervical cancer in women referred to Bradford Royal Infirmary.
Using patented Electrical Impedance Spectroscopy (EIS) platform technology, ZedScan is used – in addition to colposcopy – to detect cervical abnormalities or pre-cancerous changes before they develop into cervical cancer.
The charity's key fundraiser is ex-Scotland football international William "Willie" Henderson who sadly lost his 28-year-old daughter, Michelle, to cervical cancer in 2012.
Willie and the charity continue to raise awareness and funding for hospital gynaecology equipment in Michelle's memory as they aim to ensure that women are diagnosed and treated with state-of-art technology.
The Michelle Henderson Cervical Cancer Trust has also funded ZedScan devices for hospitals in Aberdeen and Dundee.
Prevention
Nick Myerson, lead clinician at Bradford's Colposcopy Unit, Consultant Gynaecologist, and Treasurer of the British Society for Colposcopy and Cervical Pathology's (BSCCP), said: "During the COVID pandemic, cancer care and prevention services have remained a priority for Bradford Teaching Hospitals.
"Within colposcopy, it is essential that we are able to confidently diagnose cervical abnormalities and make the best decision for patients at their first visit.
"The introduction of ZedScan to our services will support us in achieving this and we are extremely grateful to Mr Henderson and the Michelle Henderson Cervical Cancer Trust for this donation to the hospital."
Following a service evaluation, the team found ZedScan increased the detection of high-grade disease (which has the potential to become cancerous) and helped inform clinical treatment decisions.
The high sensitivity of the ZedScan device also gives clinicians confidence to discharge women to surveillance or routine screening when no disease is present.
Results from the evaluation also demonstrated that the device had the potential to achieve better patient outcomes and positive health economics for the Trust.