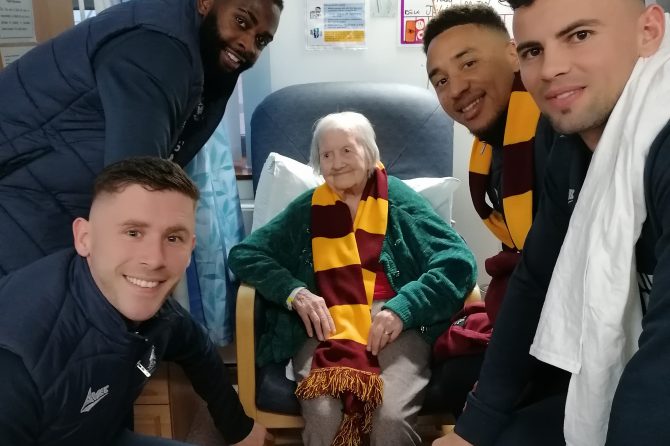 A TOUCH of football magic brought smiles and waves from patients and staff alike when Bradford City FC players paid a Christmas visit to Bradford's hospitals.
The squad called in to Bradford Royal Infirmary (BRI) and St Luke's Hospital, part of Bradford Teaching Hospitals NHS Foundation Trust, with gifts for youngsters on the children's ward, in children's A&E and outpatients.
They also dropped in on elderly patients, including a thrilled May Waters, aged 104 (pictured), at St Luke's, and even helped out at the hospital's volunteer tea bar!
And hard-working staff also got boxes of chocolates and thanks from the players for doing a fantastic job.
Bradford Hospitals' Charity hosts the squad's visit every year, which always brings great excitement and cheers up even the most poorly children and their families.
Good causes
Bradford City has also chosen the hospitals' charity as one of only three good causes it will be championing next year. This will help to raise the charity's profile and bring in funding for local projects which go over and above what the NHS provides.
Fans at City's home match on Saturday against Salford City will be encouraged to 'Sparkle for Axl' with their phone torches aglow, and charity staff and helpers will be fundraising with a bucket collection before the game.
The Spread some Sparkle for Axl campaign is in memory of little Axl Walker, who was a regular patient at BRI until he died just before his third birthday. The campaign is to raise money for Axl's Toy Fund which pays for play equipment, distraction toys and activities for young patients throughout the year.
To make a donation to the appeal, visit https://www.justgiving.com/campaign/SparkleforAxl2019