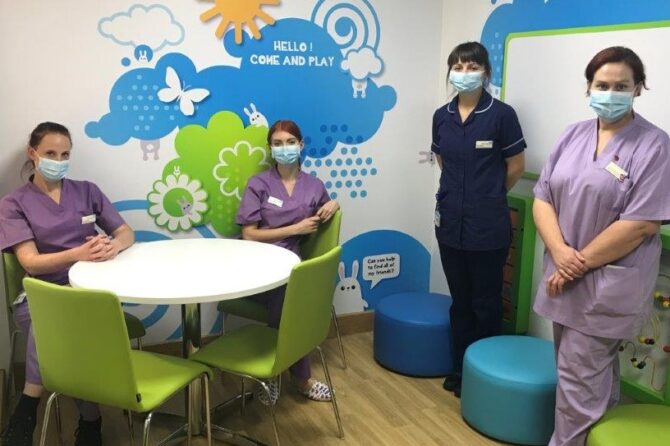 A FAMILY room which aims to create a 'home-from-home' for the families of special babies at Bradford Royal Infirmary (BRI) has been given a £15,000 makeover, thanks to Bradford Hospitals' Charity's Children's Fund.
The recently renovated area at the Neonatal Unit is for parents, families and siblings to use during their stay in hospital. It boasts comfortable sofa seating which has been specifically designed to feel less like a clinical space and more like a home. It also has an additional area where young siblings can play.  All of which is aimed at encouraging peer-to-peer support amongst parents.
Eve Malam, Interim Matron for Neonatal Services, said: "We believe that – like the babies who are cared for and treated on the unit – our families deserve the best and we are delighted that the Family Room has been renovated to a high standard and is now 'open for business'.
"The Family Room also allows the medical and nursing teams to talk to young children and families in a less clinical environment to explain what is going on at different stages during the poorly baby's stay.
"But we don't want to stop here. We would like to refurbish and extend all our facilities to make the unit a true home-from-home."
The renovated family room is the first phase of a myriad of ambitious work planned for the unit.
Two years ago, Bradford Hospitals' Charity launched the Bradford BIG Neonatal Appeal with a dream to build a six-bedded, parent accommodation unit with additional sibling play areas and memory gardens.
So far £30,000 has been raised towards the £500,000 Appeal in what has been a very challenging year for fundraising.
Masks
Senior Sister Ann-Marie Crawley, part of the unit's fundraising team, added: "Fundraising for the neonatal unit is at a halt due to COVID, so I started making face masks during the pandemic and selling them to staff and friends.
"I have currently raised around £1,000 towards the Bradford BIG Neonatal Appeal fund and am going strong so if anyone in the wider hospital would like to order some face masks then please get in touch."
Hayley Collis, Head of Fundraising, extended her grateful thanks go to Eve, Ann-Marie and her colleagues for keeping this appeal alive.
She added: "Raising £30,000 is an amazing feat in these strange times that we find ourselves in.
"The family room wouldn't have happened without people like Ann-Marie who have continued to seek out opportunities to raise vital funds which, in turn, ensure that we can provide such wonderful facilities like the Family Room for our families, siblings, visitors and babies to benefit from.
"A huge thank you to everyone who contributed to our £30,000 so far, but please don't stop there! Keep thinking of ways to raise money and hopefully it won't take too long to reach the Appeal's final total.
"Be rest assured, Bradford Hospitals' Charity will continue to work alongside the Neonatal Unit to raise the £500,000 needed to create the extended accommodation for parents so they can stay close to their babies and provide a home-from-home environment for these vulnerable families at their time of need."
Bradford's Neonatal Unit cares for around 500 premature and sick babies every year. Approximately one baby in 10 requires admission to the unit, which takes babies from all over the Yorkshire and Humber region. Staff provide intensive care treatments to babies born as early as 23 weeks.
While the unit currently has two bedrooms to accommodate parents, the appeal aims to raise enough money to:
Build an extension of five additional bedrooms
Create an outdoor garden for parents to be able to reflect in peace and quiet
Refurbish the communal kitchen and living facilities
Refurbish sibling play areas and purchase a range of toys and distraction activities
Nothing can prepare families for their time on the Neonatal Unit, but we can make it that little bit more bearable.
To buy a face mask in aid of the Bradford BIG Neonatal Appeal, contact Ann-Marie on Ann-Marie.Crawley@bthft.nhs.uk
For more information on the Appeal, please give the charity a call on 01274 274809 or go to https://www.justgiving.com/campaign/bradfordsbigneonatalappeal
ENDS
For further media information, please contact communications@bthft.nhs.uk or call 01274 364700.
Note to Editors:
Bradford Teaching Hospitals NHS Foundation Trust:
Bradford Teaching Hospitals NHS Foundation Trust is responsible for providing hospital services for the people of Bradford and communities across Yorkshire. We serve a core population of around 500,000 and provide specialist services for 1.1 million people.
Our 5,500 staff work over several sites, including Bradford Royal Infirmary, which provides the majority of inpatient services, and St Luke's Hospital, which predominantly provides outpatient and rehabilitation services. We also manage local community hospitals at Westwood Park, Westbourne Green, and Eccleshill.
In early 2017, a new £28 million wing opened at Bradford Royal Infirmary, part of a £75m investment to improve patient care across our hospitals over a five-year period. It provides world-class facilities for elderly care, children's services, a state-of-the-art intensive care unit with increased single-room provision and a retail concourse.
The new wing is a continuation of our work to improve patient experience after our new £2 million neonatal unit officially opened in January 2015. Our maternity services were recently shortlisted for the Royal College of Midwives' (RCM) Midwifery Service of the Year Award, recognising excellence and innovation in the provision of maternity care.
In 2017, we also completed a £2m refurbishment of our Emergency Department (ED) as part of an ambitious vision to create a more efficient acute medicine service for the people of Bradford. It has been designed to provide a slicker and more efficient service, with faster senior clinical involvement at an early stage in the patient pathway.
As a teaching hospital, we are at the forefront of education and development in healthcare, and have an excellent reputation for research performance. We are one of the leading centres in conducting applied research in the country, particularly in quality and safety, elderly care and rehabilitation.
The Trust is home to the Bradford Institute for Health Research (BIHR) where researchers have led the development, validation and implementation of the award-winning Bradford Electronic Frailty Index (eFI) which helps calculate an elderly person's risk of disability, impairment, falls and complications of chronic diseases, as well as their diminishing independence and capability. This is now being used by 98% of all GPs across the country.
Our award-winning Ophthalmology department is home to numerous worldwide clinical trials taking the lead in eye care research and we are one of only three sites in the United Kingdom to be enlisted in the Perioperative Enhanced Recovery Hip Fracture Care of Patients with Dementia (PERFECTED) study, which will investigate how the NHS can introduce better standards of care to improve outcomes for people with dementia.
The Trust has its own Bradford Hospitals Charity: https://bradfordhospitalscharity.org/
Follow us on Twitter: @BTHFT
For more information please visit www.bradfordhospitals.nhs.uk