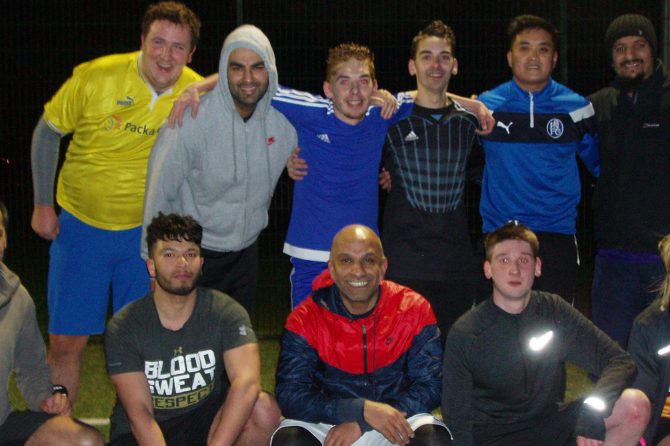 NHS staff in Bradford have picked up the pace in their football training ahead of their big clash against a team of celebrities on Sunday, April 14.
'Team Bradford Hospitals' Charity' (Team BHC) – made up of doctors, nurses and NHS staff – will play Supporting Charities FC celebrities at Horsfall Stadium, Bradford. The event will raise money for Bradford Hospitals' Charity's 'Rays a Smile' appeal, which launches next month, and aims to raise £250,000 to make radiology services in Bradford more child-friendly.
Consultant histopathologist, Dr Faisal Ali, who is the NHS team's captain, said: "Our training is going really well. The celebrities may have ex-professional players on their side, but we have youth and pace on our team! They'll have to be aware that if any of our young or fast players run past them, there's no way they will be able to catch them!"
Team BHC has players ranging from 16 to 46, with some signed up to semi-professional teams.
"We have some real hidden stars," added Faisal. "After seeing our team, the celebs will be wondering whether they're playing Manchester United."
Hayley Collis, head of fundraising for Bradford Hospitals' Charity, said: "This is a fantastic opportunity for us to have some fun while fundraising for our new appeal – Rays a Smile! We have staff from all over Bradford Teaching Hospitals NHS Foundation Trust playing – from board directors to doctors, nursing staff to IT technicians – we can't wait to get on the field and have some fun.
"However, don't be fooled that our team isn't taking it seriously. They have been training hard and we're looking forward to an exciting match against the celebrities with a well-deserved win for our NHS team!"
Hayley added: "I want to say a big thank you to SpaceKraft, Irwin Mitchell solicitors and Nuffield Health for sponsoring Team BHC. Their support has enabled us to fund a full team kit for our amazing NHS staff!"
Celebrity actors
Celebrities planning to play against the NHS team include actors from Emmerdale and Hollyoaks (James Hooton, Ash Palmisciano, David Kennedy) as well as TV stars and singers (Ash Stevenson, Freddie Bolt, Adam Oakley, Patrick McBride, Stephen Burke, Tom White and Tiny Tim Adventures). Ex professional footballers will also play, such as Lee Duxbury, David Norris, Craig Armstrong, and Darren Williams).
Chris Moralee, from Supporting Charities FC, who is organising the event, said: "We seriously cannot wait for the match. To be able to support our amazing local hospitals, where I and many of our players were born, is a huge honour."
As well as the football match, the event will also have entertainment from ID Academy dancers, who will perform a cheerleading routine. There will also be a variety of stalls, a bouncy castle and face painting for children. There will be a charity auction after the match to raise more money for the appeal.
Kick off will be at 1.30pm on Sunday 14 April, at Horsfall Stadium (home of Bradford Park Avenue). Entrance is £4 for adults and £1 for under-16s.
If any businesses would like to support the event by sponsoring a celebrity player, or place an advert in the programme, please contact Chris Moralee on 07522123700 or email charityscfc@hotmail.com.
Anyone wishing to support the Rays a Smile appeal or find out more about Bradford Hospitals' Charity – the NHS charity partner of Bradford Teaching Hospitals NHS Foundation Trust – please contact Hayley Collis or Elaine Drake on 01274 274809 or email charity@bthft.nhs.uk.
Find out more about the appeal at www.bradfordhospitalscharity.org
ENDS
 NHS staff pictured at their training session are as follows: back row (left to right) – Ed Holmes, Nazzar Butt, Joseph Leetham, Mark Leetham, Richie Feliciano, Azeem Yaseen.
Front row (left to right) – Azhar Khan, Ali Hasan, Yasir Maroof, Mark Swinden, Catherine Gardiner.
 Note to Editors:
Bradford Hospitals' Charity is one of more than 250 NHS charities based around the UK. It supports the strategic direction of Bradford Teaching Hospitals NHS Foundation Trust by funding projects which go over and above what he NHS provides.
Did you know that, together, all NHS charities give £1million every single day to the NHS!
In 2017, a new £28million wing opened at Bradford Royal Infirmary, which was part of a £75m investment to improve patient care across our hospitals. It provides world-class facilities for the elderly, children and a brand new intensive care unit. Bradford Hospitals' Charity provided £260,000 to enable the Trust to create family friendly environments, state-of-the-art equipment and innovative distraction toys and games for young people.
With the support of Bradford Hospitals' Charity, BTHFT was also able to provide more cots, including intensive care and high dependency cots, new family accommodation, a revamped counselling suite and a dedicated room for mothers to express milk for pre-term babies when the new neonatal unit opened in 2015.
For further media information, please contact Kelly Thornham, Communications Officer, at communications@bthft.nhs.uk or call 01274 382265
Twitter: @BTHFTCharity Facebook: bradfordhospitalscharity Instagram:bradfordhospitalscharity LinkedIn: www.linkedin.com/company/bradfordhospitalscharity
Note to Editors:
Bradford Teaching Hospitals NHS Foundation Trust:
Bradford Teaching Hospitals NHS Foundation Trust is responsible for providing hospital services for the people of Bradford and communities across Yorkshire. We serve a core population of around 500,000 and provide specialist services for 1.1 million people.
Our 5,500 staff work over several sites, including Bradford Royal Infirmary, which provides the majority of inpatient services, and St Luke's Hospital, which predominantly provides outpatient and rehabilitation services. We also manage local community hospitals at Westwood Park, Westbourne Green, and Eccleshill.
In early 2017, a new £28 million wing opened at Bradford Royal Infirmary, part of a £75m investment to improve patient care across our hospitals over a five-year period. It provides world-class facilities for elderly care, children's services, a state-of-the-art intensive care unit with increased single-room provision and a retail concourse.
The new wing is a continuation of our work to improve patient experience after our new £2 million neonatal unit officially opened in January 2015. Our maternity services were recently shortlisted for the Royal College of Midwives' (RCM) Midwifery Service of the Year Award, recognising excellence and innovation in the provision of maternity care.
In 2017, we also completed a £2m refurbishment of our Emergency Department (ED) as part of an ambitious vision to create a more efficient acute medicine service for the people of Bradford. It has been designed to provide a slicker and more efficient service, with faster senior clinical involvement at an early stage in the patient pathway.
As a teaching hospital, we are at the forefront of education and development in healthcare, and have an excellent reputation for research performance. We are one of the leading centres in conducting applied research in the country, particularly in quality and safety, elderly care and rehabilitation.
The Trust is home to the Bradford Institute for Health Research (BIHR) where researchers have led the development, validation and implementation of the award-winning Bradford Electronic Frailty Index (eFI) which helps calculate an elderly person's risk of disability, impairment, falls and complications of chronic diseases, as well as their diminishing independence and capability. This is now being used by 98% of all GPs across the country.
Our award-winning Ophthalmology department is home to numerous worldwide clinical trials taking the lead in eye care research and we are one of only three sites in the United Kingdom to be enlisted in the Perioperative Enhanced Recovery Hip Fracture Care of Patients with Dementia (PERFECTED) study, which will investigate how the NHS can introduce better standards of care to improve outcomes for people with dementia.
For more information please visit www.bradfordhospitals.nhs.uk
Follow us on Twitter: @BTHFT