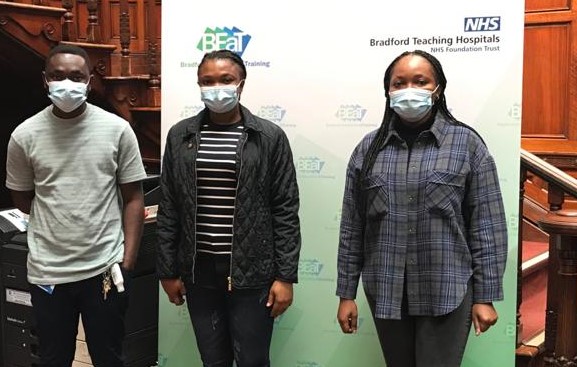 INTERNATIONAL nurses from Nigeria and Ghana have been given a warm welcome to Bradford's hospitals.
Bamidele Abiona and Ahamba Cinoline, from Nigeria, and Walter Boateng, from Ghana, are the first arrivals from a group of 48 nurses from overseas who have accepted jobs at Bradford Teaching Hospitals NHS Foundation Trust.
These nurses will prove invaluable in supporting Bradford Teaching Hospitals' teams to care for patients as the Trust continues to restart many of its routine services following the pandemic and ensures it is prepared for winter pressures later in the year.
As well as reducing vacancy numbers, the nurses, who will be working in operating theatres at Bradford Royal Infirmary, initially, will also extend experience among nursing teams.
The Trust secured part-funding for the nurses from NHS England/Improvement as part of an international nurse recruitment programme.
New recruits
Other new recruits will be joining the Trust over the summer from India, Qatar, Saudi Arabia, Zimbabwe, St Lucia, Kenya, Swaziland, Botswana, South America, Jamaica, Guyana and Barbados.
Bamidele, Walter and Ahamba said they'd had a warm welcome at the Trust and are looking forward to meeting new colleagues, getting to know Bradford and working for the NHS.
"I've been made to feel at home – even though I'm not at home!" said Ahamba. "When I was searching for which hospital to work at in the UK I liked Bradford because it's a big hospital, but also because I felt I could fit in and settle here."
Bradford Teaching Hospitals has a proud tradition of welcoming healthcare professionals from across the world and has years of experience in recruiting, settling in and supporting international nurses.
Before each nurse arrives, the Trust contacts them regularly to check how the process is going and answer any queries they may have.
Adapt to life
A dedicated nurse educator is now helping them settle into their ward environments and offering them pastoral support to help them adapt to life in Bradford and the UK.
As overseas nurses, they will have to sit the rigorous OSCE exam as part of the Nursing and Midwifery Council (NMC) registration process for nurses and midwives trained outside the European Union. The Trust is providing them with a training package of support in preparation for this.
Karen Dawber, Chief Nurse, said: "These are still strange times for us all, and in particular for the nurses who have moved from overseas to join our work family.
"It's fantastic that we are able to benefit from the skills of these enthusiastic, dedicated and talented people. They have made the decision to emigrate to develop their professional skills, often leaving family behind.
"They will help bolster our current nursing workforce to ensure we are providing the best care for our patients. I'd like to thank them for choosing Bradford and I wish them every success in their new jobs.
"While we have high numbers of student nurses wanting to join our Trust and career development opportunities for our existing nurses, the recruitment of nurses from overseas is a huge support. I know our teams will do everything they can to help them settle in and make them feel at home."
ENDS