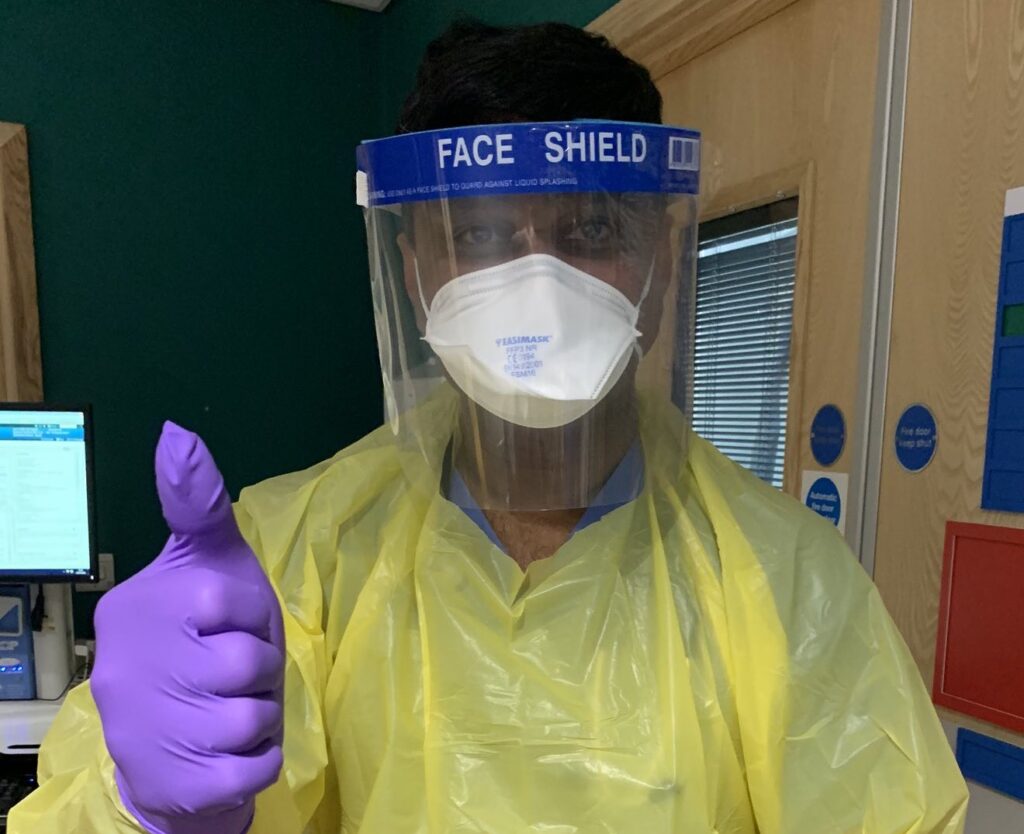 BRADFORD researchers are at the forefront of a major clinical trial into the treatment of coronavirus (Covid-19.)
The cutting edge respiratory drug to treat patients with Covid-19 to reduce the need for intensive care, is already being trialled at Bradford Institute for Health Research (BIHR), based at Bradford Royal Infirmary (BRI), part of Bradford Teaching Hospitals NHS Foundation Trust.
The treatment from Southampton-based Synairgen PLC, uses a protein called beta interferon and has had positive results, benefiting local patients; the Bradford centre was one of only eight centres nationally to be chosen for the trial. It is one of only two centres in Yorkshire.
Dr Dinesh Saralaya, who has led the trial, said: "It is fantastic news that Bradford is leading the way in delivering cutting edge trials which have a huge positive impact on the recovery of our patients.
"We were pleased that Bradford was chosen for the Synairgen treatment trial and this came about as a result of close links with fellow researchers at the University of Southampton, which was instrumental in the development of the drug, SNG001.
Successful
"The trial involved patients inhaling the drug directly into their lungs using a nebuliser, and the results have been very successful.
"So far we have recruited six patients to the study; five of whom responded very well and improved quickly. The patients were all in the early stages of Covid-19 and were at risk of developing severe disease which could require ventilation.
"The beta interferon stimulates an immune response, dramatically reducing breathlessness. We also found that it reduced the length of a patient's hospital stay – down from an average of nine days to six. In 80 per cent of patients this drug can prevent their symptoms from becoming severe."
Dr Saralaya added that in total the Trust was involved in six other 'interventional' Covid-19 trials, which had involved close to 200 patients to date, and that a further three trials were in the process of being set up.
"We are very fortunate that we have patients who are very willing to get involved in research. They are all too aware of what a catastrophic virus Covid-19 can be and they want to do all they can to help us find a treatment and a cure."
Case study
Eddie Imishue
Mr Imishue, aged 55, is a Mental Health Care Support Worker with Bradford District Care NHS Foundation Trust.
On April 18, 2020, he was admitted to Bradford Royal Infirmary with coronavirus (Covid-19.) He was prescribed the drug SNG001 via nebuliser to stop his symptoms worsening and prevent the need for being placed on ventilation.
Mr Imishue said: "I was very breathless and had a persistent cough. I also felt very lethargic. When I tested positive for Covid-19, I was asked by Dr Saralya if I was willing to take part in the treatment trial and I said yes.
"The treatment had a profound positive effect on me and my symptoms improved so that I was able to go home, where I continued with the treatment. The staff kept regular checks on me, asking how I was getting along and I was able to report that I was feeling much better. I took the treatment for 14 days.
"I am happy to say that I have now been able to return to work. I feel very fortunate I was able to take part in the trial."
Watch Dr Saralaya talk about the treatment trial here: https://twitter.com/BTHFT/status/1285526595764133888
ENDS
For further media information, please contact communications@bthft.nhs.uk or call 01274 382265
Note to Editors:
Bradford Teaching Hospitals NHS Foundation Trust:
Bradford Teaching Hospitals NHS Foundation Trust is responsible for providing hospital services for the people of Bradford and communities across Yorkshire. We serve a core population of around 500,000 and provide specialist services for 1.1 million people.
Our 5,500 staff work over several sites, including Bradford Royal Infirmary, which provides the majority of inpatient services, and St Luke's Hospital, which predominantly provides outpatient and rehabilitation services. We also manage local community hospitals at Westwood Park, Westbourne Green, and Eccleshill.
Bradford Teaching Hospitals NHS Foundation Trust is one of five trusts across England chosen to host a new regional Patient Recruitment Centre (PRC). The new research centre, part of £7m Government investment, will help people across the region access important late-phase commercial clinical research and vital treatment trials, including into COVID-19.
A new £28 million wing was recently opened at Bradford Royal Infirmary, part of a £75m investment to improve patient care across our hospitals over a five-year period. It provides world-class facilities for elderly care, children's services, a state-of-the-art intensive care unit with increased single-room provision and a retail concourse.
The new Command Centre opened at BRI in 2019, which allows staff to optimise patient flow throughout the hospital by providing them with real-time information and data through a 'wall of analytics'. The Trust won the Early Adapter of the Year 2020 award for the development of this new Command Centre.
These projects are continuations of our work to improve patient experience after our new £2 million neonatal unit officially opened. Our maternity services were recently shortlisted for the Royal College of Midwives' (RCM) Midwifery Service of the Year Award, recognising excellence and innovation in the provision of maternity care.
As a teaching hospital, we are at the forefront of education and development in healthcare, and have an excellent reputation for research performance. We are one of the leading centres in conducting applied research in the country, particularly in quality and safety, elderly care and rehabilitation.
The Trust is home to the Bradford Institute for Health Research (BIHR) where researchers have led the development, validation and implementation of the award-winning Bradford Electronic Frailty Index (eFI) which helps calculate an elderly person's risk of disability, impairment, falls and complications of chronic diseases, as well as their diminishing independence and capability. This is now being used by 98% of all GPs across the country.
The Wolfson Centre for applied Health Research opened in 2019. Bringing together researchers from the University of Leeds, University of Bradford and the Trust, it hosts a centre for child health, the Centre for Ageing, and the National Institute for Health Research's National Patient Safety Centre.
Our award-winning Ophthalmology department is home to numerous worldwide clinical trials taking the lead in eye care research and we are one of only three sites in the United Kingdom to be enlisted in the Perioperative Enhanced Recovery Hip Fracture Care of Patients with Dementia (PERFECTED) study, which will investigate how the NHS can introduce better standards of care to improve outcomes for people with dementia.
The Trust has its own Bradford Hospitals Charity: https://bradfordhospitalscharity.org/
Follow us on Twitter: @BTHFT
For more information please visit www.bradfordhospitals.nhs.uk