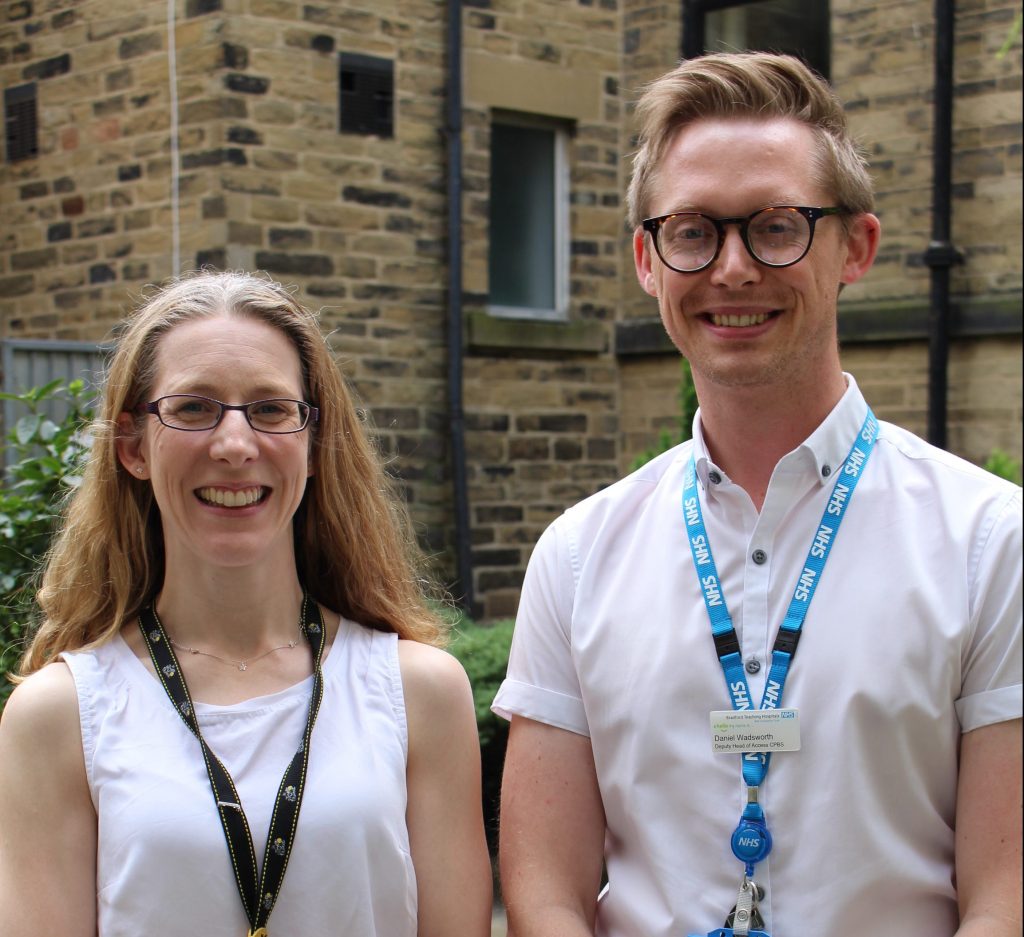 An NHS manager and an ophthalmologist from Bradford Teaching Hospitals NHS Foundation Trust (BTHFT) have won a top award after seeing off 91 other entrants.
Consultant Ophthalmologist, Dr Rachel Pilling, and Deputy Head of Patient Access, Daniel Wadsworth, have been crowned the winners of the very first Sir Peter Carr Award after they impressed judges with their project idea: '15 Seconds – 30 Minutes'.
The award rewards clinical and managerial partnerships and the prize is £30,000 for Rachel and Daniel to invest in their professional development.
This is an amazing achievement as they beat off competition from a staggering 91 other entries to claim this prestigious award, which was created by NHS Improvement to help and inspire the leaders of tomorrow to make improvements for patients.
The award both acknowledges Sir Peter Carr's outstanding contribution to the NHS in over 25 years' service in a range of non-executive roles at regional and national level, as well as the importance NHS Improvement attaches to investing in leadership for improvement, a key part of the national framework Developing People, Improving Care.
The '15 Seconds – 30 Minutes' project idea encourages staff to complete a small task today, that might take 15 seconds but may save colleagues 30 minutes by avoiding further tasks down the line. The initiative aims to save staff time, as well as improving patient experience.
Bring vision to life
Rachel said: "Winning this award will enable Daniel and I to bring our vision to life – where the small jobs that take 15 seconds get done there and then, instead of taking 30 minutes if they're left till another day. This will save time for staff to spend on patient care, and improve patients' experiences and staff satisfaction in their work."
"I am exceptionally proud to have won and I am really looking forward to developing the '15 Seconds – 30 Minutes' principle further."
She added that the project was in fact inspired by her daughter Maddie's wash basket!
"My daughter has a habit of putting all her clothes (dirty or clean) into her wash basket. This then makes extra work for me sorting them out! I told her that if she just spent 15 seconds sorting them properly in the first place, it would save me at least 30 minutes later which I could devote to doing something better – spending more time with her for example!"
"The essence of the project was all about how we can make every day a great day; what if someone showed you how, if were able to spend an extra 15 seconds on a task, you could save someone else 30 minutes further down the line? Using the 15 seconds – 30 minutes model, we can all identify ways of reducing frustration at work, improve job satisfaction and provide a better patient experience."
The pair will use the money to fund access to several courses, including attending the Sheffield Mircosystem Coaching Academy and to attend a number of healthcare conferences, as well as making a visit to the leading American hospital, The Virginia Mason Institute, in Seattle, Washington, which is world renowned for its approach to patient experience and quality improvement.
Benefit our patients
Daniel said: "Rachel and I have worked together for a few years now and we both have a passion for making improvements that will benefit our patients. Winning the award will allow us to develop our skills further, enabling us to make bigger and better improvements for patients."
"I am really looking forward to being able to attend courses, conferences and making a trip to the Virginia Mason Institute which will deepen our knowledge of quality improvement and patient experience. Without the award, these opportunities would have been out of our reach."
Sir Peter Carr said: "This award is an innovative attempt to encourage continuous improvement at all levels in the NHS. I am delighted that the first group of award winners and runners up were of such a high standard – it really shows the level of innovation and improvement going on within the NHS at the front line."
"I hope this award provides a platform for all the finalists to develop themselves, to inspire others and – most importantly – to transform care for patients. I am looking forward to seeing their progress."