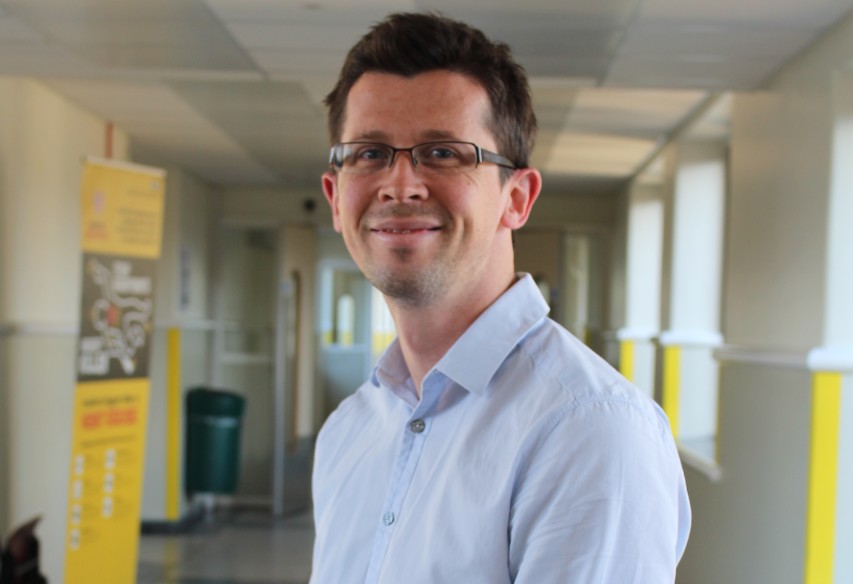 A Bradford hospital consultant has been honoured with a professorship thanks to his pioneering research work with older people.
Andy Clegg, Consultant Geriatrician on ward 3, the elderly people's admissions unit, at Bradford Royal Infirmary, part of Bradford Teaching Hospitals NHS Foundation Trust, has been appointed Professor of Geriatric Medicine at the University of Leeds.
Prof Clegg led the development, validation and national implementation of the award-winning Bradford electronic frailty index (eFI) – a world first.
The eFI helps calculate an older person's risk of developing frailty, losing independence and hospital admission, and helps GPs identify older people who have increased needs so that they can be provided with individual care.
It has now become official NICE (The National Institute for Health and Care Excellence) guidance and is leading the way nationally in older people's primary care as it is available to over 90 per cent of all GPs across the country.
Prestigious professorship
Prof Clegg said: "It is a real honour to be awarded this prestigious professorship, which combines academic work at the Academic Unit of Elderly Care and Rehabilitation, which is part of the University of Leeds and based at the Bradford Institute for Health Research (BIHR), based at Bradford Royal Infirmary with clinical work on the hospital's ward 3.
"I am fortunate to work as part of a great team both in our Academic Unit and on ward 3, and this award has only been possible through their tremendous support. I'd also like to thank all the participants in our research studies, many of whom come from the Bradford area, as they have made a major contribution to our research work to improve care for older people over many years."
Prof Clegg graduated in medicine at University College London Medical School, with an intercalated BSc in Pharmacology, and worked as a junior doctor in Brighton and Leeds. Specialty training in geriatric and general medicine was undertaken in the Yorkshire Deanery, principally at BRI.
His research spans clinical trials of complex interventions and analysis of large research datasets. He is currently theme lead for the National Institute for Health Research Applied Research Collaborative, Yorkshire and Humber (NIHR ARC YH), which is focusing on improving care for older people with frailty and care home residents.
He also leads a wide portfolio of research hosted at the Trust, and is Chief Investigator for the national Community Ageing Research 75+ (CARE 75+) study to investigate frailty, disability and quality of life in older age, and evaluate interventions to improve outcomes with around half of the 1,300 cohort participants coming from Bradford.
ENDS
For further media information, please contact communications@bthft.nhs.uk or call 01274 383901
 Note to Editors:
Bradford Teaching Hospitals NHS Foundation Trust:
Bradford Teaching Hospitals NHS Foundation Trust is responsible for providing hospital services for the people of Bradford and communities across Yorkshire. We serve a core population of around 500,000 and provide specialist services for 1.1 million people.
Our 5,500 staff work over several sites, including Bradford Royal Infirmary, which provides the majority of inpatient services, and St Luke's Hospital, which predominantly provides outpatient and rehabilitation services. We also manage local community hospitals at Westwood Park, Westbourne Green, and Eccleshill.
In early 2017, a new £28 million wing opened at Bradford Royal Infirmary, part of a £75m investment to improve patient care across our hospitals over a five-year period. It provides world-class facilities for elderly care, children's services, a state-of-the-art intensive care unit with increased single-room provision and a retail concourse.
The new wing is a continuation of our work to improve patient experience after our new £2 million neonatal unit officially opened in January 2015. Our maternity services were recently shortlisted for the Royal College of Midwives' (RCM) Midwifery Service of the Year Award, recognising excellence and innovation in the provision of maternity care.
In 2017, we also completed a £2m refurbishment of our Emergency Department (ED) as part of an ambitious vision to create a more efficient acute medicine service for the people of Bradford. It has been designed to provide a slicker and more efficient service, with faster senior clinical involvement at an early stage in the patient pathway.
As a teaching hospital, we are at the forefront of education and development in healthcare, and have an excellent reputation for research performance. We are one of the leading centres in conducting applied research in the country, particularly in quality and safety, elderly care and rehabilitation.
The Trust is home to the Bradford Institute for Health Research (BIHR) where researchers have led the development, validation and implementation of the award-winning Bradford Electronic Frailty Index (eFI) which helps calculate an elderly person's risk of disability, impairment, falls and complications of chronic diseases, as well as their diminishing independence and capability. This is now being used by 98 per cent of all GPs across the country.
Our award-winning Ophthalmology department is home to numerous worldwide clinical trials taking the lead in eye care research and we are one of only three sites in the United Kingdom to be enlisted in the Perioperative Enhanced Recovery Hip Fracture Care of Patients with Dementia (PERFECTED) study, which will investigate how the NHS can introduce better standards of care to improve outcomes for people with dementia.
Follow us on Twitter: @BTHFT
For more information please visit www.bradfordhospitals.nhs.uk
The Trust has its own Bradford Hospitals Charity: https://bradfordhospitalscharity.org/