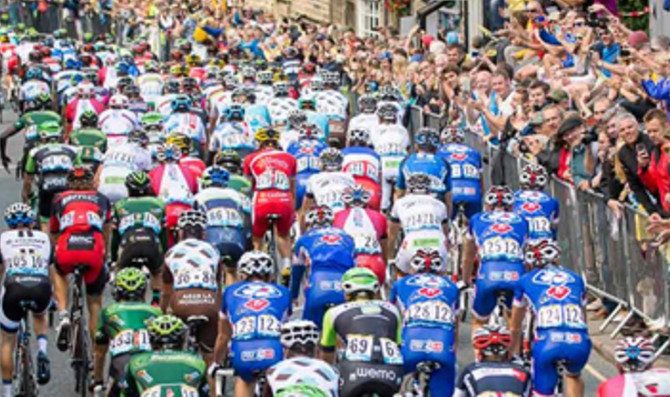 All eyes will be on Yorkshire this weekend when, for the first time since 1982, the world's best cyclists return to Yorkshire for the UCI Road World Championships, the pinnacle of the international road cycling calendar.
The Championships will include a range of men's and women's races, across age groups from junior to elite, starting in different towns and cities throughout Yorkshire and each finishing in the main competition town of Harrogate.
Harrogate will host the finish of every race over the nine days of competition. Racing will end on Sunday, September 29.
As in previous years, rolling road closures will be used along the route, which is likely to cause travel disruption.
Bradford Teaching Hospitals' patients and staff should be aware that road closures will hit Bradford itself on Saturday, September 28, when the Women's Elite Road race travels from the city to its conclusion in Harrogate.
The Women's Elite Road Race starts in the city centre before travelling through Manningham, Frizinghall, Shipley and lower Baildon. To celebrate this prestigious cycling race there will be a fabulous event in Bradford city centre from 9.30am to 1pm.
The Men's Elite Road Race will go through Ilkley and Addingham on Sunday, 29 September.
Road closures
So that the organisers can put the infrastructure in place and ensure the safety of spectators and participants there will be a series of road closures. The following will be closed from 6pm on Friday, 27 September until no later than 6pm on Saturday, 28 September:
• Norfolk Gardens
• Channing Way
• Hall Ings
The following will be closed from 00.30am on Saturday, 28 September and may remain in place until 11pm on Saturday, 28 September.
• Cheapside from Lower Kirkgate to Manor Road
• Sunbridge Road
• Bridge Street from Hall Ings to Drake Street
The following roads will be closed from midnight until 4am on Friday, 27 September and will remain closed until no later than 6pm on Saturday, 28 September:
• Market Street
• Lower Kirkgate from Canal Road to Market Street
• Broadway
• Bank Street
• Market Street
• Prince's Way
• Thornton Road from Lower Grattan Road to Godwin Street
• Little Horton Lane from Chester Street to Prince's Way
• Godwin Street from Sunbridge Road to Prince's Way
• Nelson Street from Croft Street to Hall Ings
• Manchester Road from Croft Street to Prince's Way
• Sharpe Street from William Street to Manchester Road
• Hall Ings from Drake Street to Prince's Way
• Kirkgate
• Darley Street from Godwin Street to Bank Street
• Pictureville
• Dale Street from Duke Street to Kirkgate
• Piccadilly from Duke Street to Kirkgate
The race will leave City Park at 11.40am as part of a convoy called a bubble. Police outriders and/or the authority may close roads for up to 40 minutes before the cyclists arrive and the roads will remain closed until the final support vehicle has passed through.
Drivers should comply with instructions given by those closing roads and if you are approaching the rear of the race you should not attempt to overtake the escort vehicles under any circumstances. All roads will be re-opened as soon as possible.
Please be aware that due to a building collapse – Carlisle Road from the sports centre to the junction of Whetley Hill in Manningham is currently closed in both directions. ‪Diversions are in place and drivers can expect delays in the area. This may remain closed until Sunday, 29 September.
It is expected that there will be a high amount of disruption to traffic roads on and around the race route, please plan your route.
A helpful interactive map on road closures and timings throughout the UCI World Championships can be found here. And day-by-day road closure maps can be downloaded here.
Parking
If you normally park your car on a road where the race will travel you will need to completely remove it from the carriageway before 8am and it will not be able to be returned until 3pm on Saturday, 28 September 2019.
Nearby on street parking may be used for your vehicles providing existing traffic and parking regulations are adhered to and consideration is given to other road users and residents. Signs will also be placed in particularly narrow areas as a reminder to keep the route clear on the day of the event.
Please note:
• Vehicles found parked on the route during the event may be subject to searches by the security services and will be removed.
More information on the UCI World Championships can be found at their Official website https://worlds.yorkshire.com/. The site also includes a useful spectator guide.
Leave a reply